In 2020, eBay launched an order fulfillment platform called Managed Delivery. And its core mandate was to develop a streamlined service with eBay's network of sellers and third-party logistics providers.
Before you build an opinion that the launch of this service was to cater to the pandemic, it helps to know that Managed Delivery's first announcement was in the summer of 2019 before any recorded outbreak. eBay aimed to reduce the transit times of products while maintaining a low delivery cost like its key competitor was doing at that time.
Managed Delivery set out to provide sellers with storage, packaging, and product transportation through third-party logistics overseen by eBay. Keeping ahead of the competition and streamlining a network are just a few reasons behind this third-party logistics partnership. And in this article, we will visit them all and determine what they mean to all stakeholders.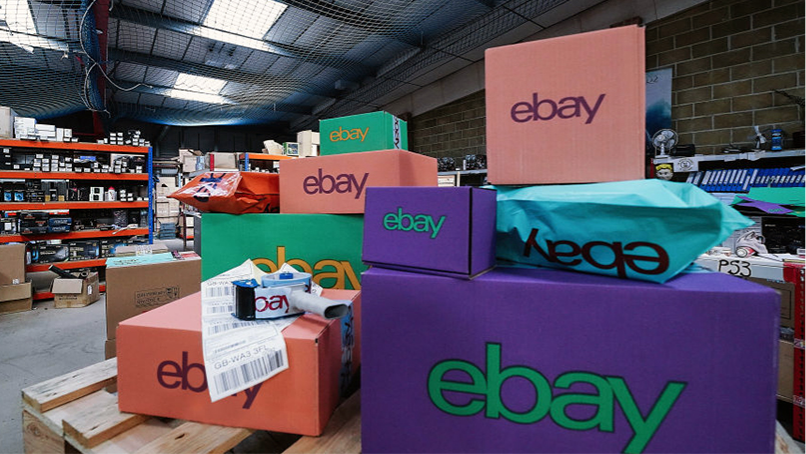 Reasons for the eBay and Third-Party Logistics Partnership
There are several reasons behind eBay's 3PL partnership. But they all stem from one source — to improve on eCommerce service delivery to end consumers. However, other fringe causes of the logistics partnership include:
1. To Keep Up with the Trends as eCommerce Surges: the eCommerce market is set to hit a record sales value of $5.4 trillion in 2022. This rise in sales shows that more people (approximately 2.14 billion) have turned to online purchases.
As the demand in eCommerce increases, companies such as eBay have to search out more effective means to deliver products. The majority of online shoppers agree that product shipping time should not exceed three days. For large eCommerce organizations like eBay, delays in product shipping can affect its growth and drive sales to competitors.
A primary competitor of eBay, Amazon, launched a delivery service Amazon Prime to ensure same-day deliveries. In keeping with the precedent set by competitors, eBay has partnered with third-party logistics companies. Competition and service demand are two crucial factors that can cause a business to change its strategy.
2. Traditional Distribution Can't Meet Consumer Demands: the eCommerce market is a rapidly growing market, if not the fastest one in the market. For eBay to maintain its competitive edge, they need to operate efficiently and meet consumer demands. Outsourcing inventory management, shipping, and possible storage to third-party logistics providers allow eBay to redirect resources to product quality and employee management. eBay receives approximately 2 billion transactions daily, and processing, shipping, and tracking this volume of orders can be challenging to monitor even with the manpower available.
Third-party logistics companies allow eBay to meet the daily demand they encounter and retain a competitive edge.
Impact of eBay's Partnership with Third-party Logistics
There are various things that consumers can expect with the eBay 3PL Fulfillment partnership, some of which we have listed below:
1. Less Time Spent On Order Fulfillment: in a perfect world, customers would receive their products a few minutes, if not hours, after order placement. With the eBay third-party logistics partnership, orders ship to consumers without interruption freeing up staff for other tasks. The time reduction on order shipment is a win-win for all parties involved. eBay gets to maintain its standard of excellence, third-party logistics gain business, and customers receive their orders in good time.
2. Lower Shipping Costs: earlier, we mentioned the number of daily orders eBay receives. To make a profit on shipping, eBay has to increase shipping costs to account for vehicle maintenance, fueling, and other transportation-related fees. This partnership with third-party logistics providers will reduce shipping costs, as most third-party logistics companies have warehouses that countrywide and can deliver products within 2-3 days.
Another reason for the lower shipping costs is that this partnership will mean that eBay hands out bulk orders to third-party logistics. Bulk orders often cost less than single shipments carried out.
3. Increased Customer Satisfaction: It is normal behavior for consumers to stop shopping with a particular retailer due to a prolonged shipping time. The eBay and third-party logistics partnership will have more customers receiving their orders in good time, thereby increasing positive feedback on eBay users.
The eBay third-party logistics partner is a blessing to eCommerce stores under the eBay umbrella. Some of the benefits eCommerce brands can enjoy under this third-party logistics partnership are:
● The partnership will free eCommerce store owners up to focus on other core essentials of their business.
● Users can expect a reduced shipping cost and delivery time.
● Third-party logistics companies looking to target a wider audience can take hold of this partnership, especially if they operate in a localized area with limited competition.
● eBay eCommerce users can choose 3PL fulfillment based on the third-party logistics provider that suits them the most.
The Essential
eBay has invited third-party logistics to dine at their table with order fulfillment. This partnership stands increasing revenue for eBay and third-party logistics providers while reducing shipping time and increasing consumer satisfaction. For eCommerce store owners under the eBay umbrella looking to partner with a great logistics provider, YunExpress is the answer.
YunExpress is a leading force in eCommerce product shipping with distributors and warehouses across Europe, Asia, Australia, and Canada. We have partnerships with leading marketplaces like eBay and can guarantee short product delivery times. We at YunExpress specialize in cross-border B2C deliveries and have over 1500 professionals on staff to ensure swift product delivery. For more information, please visit YunExpress at: https://www.yunexpress.com/.