With its large, fast-growing, and increasingly online population, Mexico is now the biggest E-commerce market in Latin America. Over the decades, this country has been ramping up efforts to foster E‑commerce, in return, retail giants like Amazon and Walmarts are constantly extending their footprints there. In the meantime, Chinese cross-border E-commerce sellers are also keeping close eyes on this market.


What makes Mexico the most profitable market for the E-commerce business?


1 - Geographically located in North America, with Latin American culture and political background
Mexico, a country in the southern portion of North America, culturally shares the same origins as other Latino countries. With Spanish as the
official language, over 80% of the population identifies as Catholic.Mexico has now become China's second-largest trading partner in Latin America.
In 2021, the bilateral trade volume between China and Mexico reached 86.6 billion U.S. dollars, a year-on-year increase of 41.9 percent, hitting
a new high, according to the Chinese Ministry of Commerce.The value of products imported from China reached approximately 73.51 billion U.S.
dollars, increased by 50.4% in comparison to the previous year, ranked NO.5 worldwide, which has created a historical record of trade deficit
with China.
2 - Considerable purchasing power benefited from the demographic bonus
The current population of Mexico is 131,591,236 based on projections of the latest United Nations data. This rapid demographic growth will
continue to increase especially for the young generation that takes up the most percentage of its population, while the median age is less than
30. In addition, Mexico is a highly urbanized country with nearly 80 percent of its population living in urban areas.
The Gross Domestic Product (GDP) in Mexico was worth 1293.04 billion U.S. dollars in 2021, according to official data from the World Bank.
With its remarkable urbanization level and GDP per capita, this country is harnessed with considerable purchasing power and economies of
scale in terms of logistics cost. In 2021, the annual household expenditure per capita reached 5,769 U.S. dollars, which surpassed the areas of
Africa and Southeast Asia.
3 - Invincible growth rate of E-commerce, further penetration is fully loaded with potential
With a revenue of 20 billion U.S. dollars in 2021 and 29.33% of market share in the LatAm E-commerce world, Mexico is marching onto the top
10. list of retail e-commerce development with an 18% CAGR, according to eMarketer.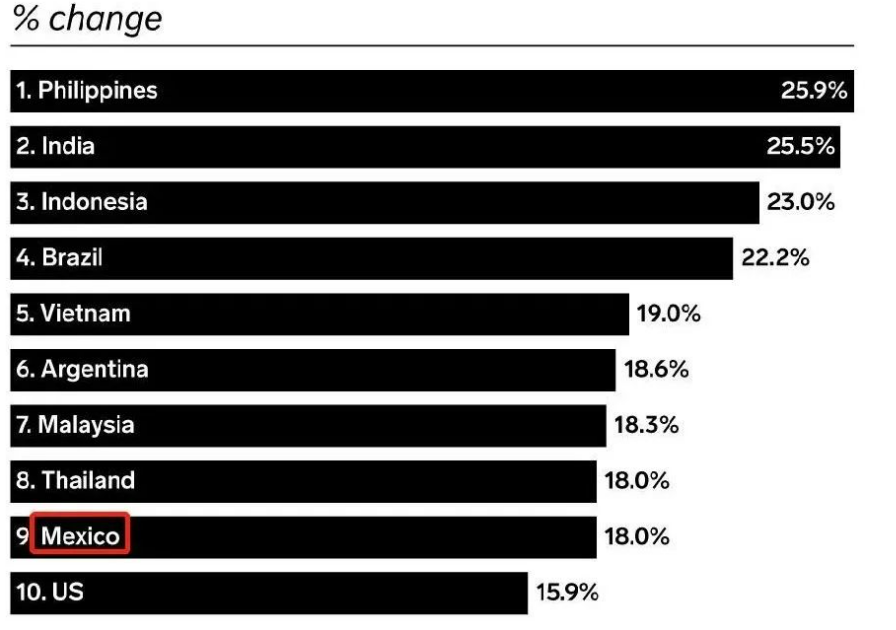 In 2021, the penetration rate in the online shopping cohort was 44%, while experts from Statista forecast it might reach 57.6% by 2025. Equally,
the online shoppers in Mexico will amount to 78 million from 60 million.
Among the most popular E-commerce marketplaces, Mercado Libre ranked NO.1, followed by Amazon. The top 5 marketplaces based on market
shares are: Mercado Libre(15.4%), Amazon(13.2%), Walmart(9.6%), Liverpool(7.0%), and Coppel(6.8%).
4- Cross-border online shopping gets popular, and so do Chinese products
In the past year, 72% of Mexican online consumers went shopping on foreign websites. There are no other consumers like Mexican that
seamlessly receptive to cross-border online shopping. Meanwhile, nearly 40% of cross-border orders were shipped from China, which makes it
Mexican's second-largest country of cross-border online shopping, right after the United States.
In Mexico, apparel, consumer electronics, and cosmetics are the most popular cross-border online shopping categories, with market share ratios
of 42%, 23%, and 20%, which indicates the huge demand for consumer goods there and makes Mexico an untapped market for Chinese
merchants.
Skyrocket your E-commerce business in Mexico with YunExpress
The Covid-19 pandemic has ravaged economies throughout the world, the E-commerce competition in developed countries is getting way too
saturated and overwhelmed, whereas Mexico is a hidden gem that is loaded with business opportunities. For E-commerce merchants who are
eager to make a breakthrough, Mexico is a niche market to realize your ambition.


But you can't jump out of an airplane without a parachute.


To help sellers seize the E-commerce opportunity in Mexico, YunExpress has tailored logistics products: Mexico Registered Standard General
and Mexico Registered Standard, enabling products in general and products containing batteries to be transported from China to Mexico
efficiently. The estimated delivery time is 8-12 workingdays and the average on-time delivery rate is 95%.
Rooted in LatAm for years, YunExpress is able to provide E-commerce merchants with more than just cross-border B2C lines - The fulfillment
center in Brazil covers those major Latin American countries, which empowers E-commerce merchants with solid logistics support.